News
Winner Internet of Things Pitch: Sjoerd Bosma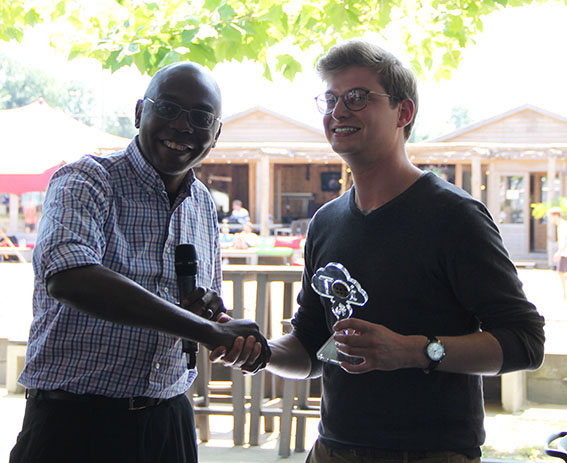 On July 5th 2017 The Micro-electronics organized an Internet of Things pitch session in which staff and students could present an idea in two minutes. Eventually ten ideas were pitched followed by the yearly summer drinks.

Winner of the pitches is master student Sjoerd Bosma. With his pitch Future Intelligent & Autonomous System for Coordinated Open parking Spaces (FIASCOS) he thought of a solution to avoid endlessly driving around in circles trying to find a parking spot in the inner cities. He suggests putting free parking spots in navigation systems. Energy harvesting technologies can be used for that; little sensors that harvest their own energy from their surroundings. These sensors can be built in e.g. little speed bumps in front of each spot. In that way the sensor can know if there is a car parked in the spot and can pass on that information to the navigation system.

Sjoerd admitts that he is probably not the first persons that thinks of connecting parking spots to navigation systems. Probably people are working on simular solutions, but with expensive wiring and infrared camera's. The little energy harvesting sensors would be much cheaper and maintenance free.

It doesn't have that much to do with Sjoerds master thesis. He will graduate in the Terra Hertz Sensing group in August where he worked on antennas and optics for sub-milimeter astronomy.
More ...